In A World Just Right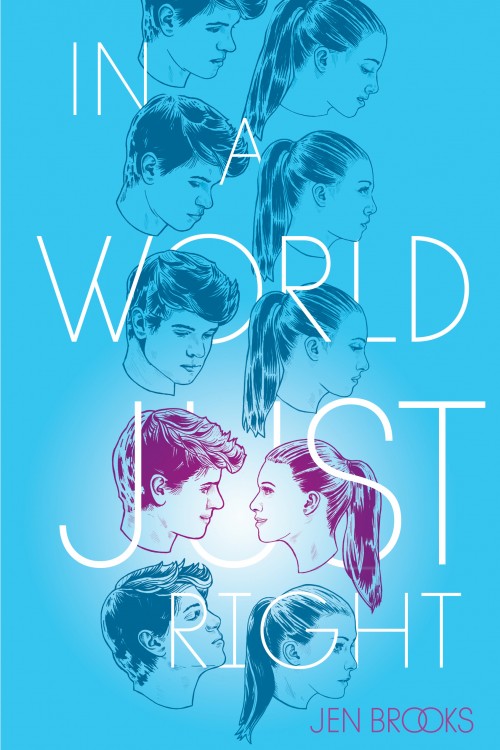 Jonathan Aubrey doesn't have to change the real world to have what he wants.
After an infamous airline disaster killed his family and scarred his face, Jonathan awoke with a magnificent power: he could create worlds at will.
He started by shooting aliens in Jonathan-is-a-hero, then learning sexy moves in Jonathan's-smokin'-hot-dance-club. Eventually, his loneliness drove him to create Kylie-Simms-is-my-girlfriend, a world that gave him everything the real world didn't: friends, passing grades, and the girl of his dreams.
But when Jonathan confuses his worlds and tries to kiss the real Kylie Simms, everything unravels. The real Kylie not only notices Jonathan, but begins obsessing over him, and fantasy Kylie struggles to love Jonathan as she was created to do with disastrous consequences. As his worlds collide, Jonathan must confront the truth of his power and figure out where he actually belongs before he loses both Kylies forever.
"A shining debut. Smart, tender, heartbreaking, triumphant. In a World Just Right is a miracle."
–Julie Berry, author of All the Truth That's in Me
"Jonathan is the best kind of main character any story could want; he is sympathetic, flawed, and is as surprised as the reader by how events unfold . . . Every piece of the puzzle that is this book slides into the exact right spot, forming a picture-perfect work of fiction." —VOYA (starred review)
"Elements of science fiction, mystery, and romance combine in a well-paced story that still manages a surprising conclusion . . . A thoughtful story that still feels fresh amid the many other sci-fi/romance combinations out there." —School Library Journal
"Coping with devastating loss and near-death tragedy takes many forms, and, in Brooks's caring narrative, an appreciation for the rationale for world making is made to feel just right." —Booklist
"Jonathan is both profoundly sad and profoundly boy in his struggle with what it means to be a good person when your moral compass has been shattered and you are left with the power to be your own god. Readers will find multiple points for empathy and reflection in this intriguing take on what-if." —The Bulletin of the Center for Children's Books
"Loneliness, choice, forgiveness and heartbreak are all tucked inside this 'feels-filled' romance. And it has the very best kind of writing, the kind that touches your heart at the same time it challenges your mind." —Justine magazine
Watch the official trailer!
Video shot and edited by Brendan Dunn. Thank you, Brendan! Thanks also to everyone at Tewksbury Memorial High School who acted in, encouraged, and supported the making of this trailer!
For downloadable discussion questions and activities: Reader Guide – In A World Just Right