writing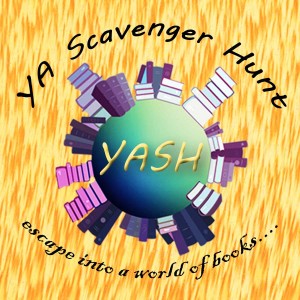 Welcome to YA Scavenger Hunt! This bi-annual event was first organized by author Colleen Houck as a way to give readers a chance to gain access to exclusive bonus material from their favorite authors…and a chance to win some awesome prizes! At this hunt, you not only get access to exclusive content from each author, you also get a clue for the hunt. Add up the clues, and you can enter for our prize–one lucky winner will receiveone signed book from each author on the hunt on my team!But play fast: this contest (and all the exclusive bonus material) will only be online for 72 hours!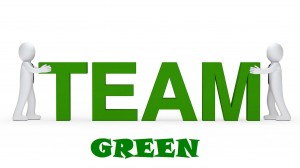 Go to the YA Scavenger Huntpage to find out all about the hunt. There are EIGHTcontests going on simultaneously, and you can enter one or all! I am a part of the GREENTEAM–but there is also a blue team, a pinkteam, a gold team, a redteam, an orangeteam, a teal team, and a purpleteam for a chance to win a whole different set of signed books!
If you'd like to find out more about the hunt, see links to all the authors participating, and see the full list of prizes up for grabs, go to the YA Scavenger Hunt page.
To add to the celebration, I'm giving away a signed ARC of my forthcoming YA novel, In A World Just Right. You can enter for the ARC below. Make sure as you continue to blog hop that you're on the lookout for other individual author prizes being offered in addition to the YASH grand prizes!
SCAVENGER HUNT PUZZLE
Directions: Below, you'll need to find where I've written myfavorite number. Collect the favorite numbers of all the authors on the green team, and then add them up.
Entry Form: Once you've added up all the numbers, make sure you fill out the form here to officially qualify for the grand prize. Only entries that have the correct number will qualify.
Rules: Open internationally, anyone below the age of 18 should have a parent or guardian's permission to enter. To be eligible for the grand prize, you must submit the completed entry form by April 5th, at noon Pacific Time. Entries sent without the correct number or without contact information will not be considered.
NOW ON TO THE SCAVENGER HUNT POST
WITH EXCLUSIVE CONTENT!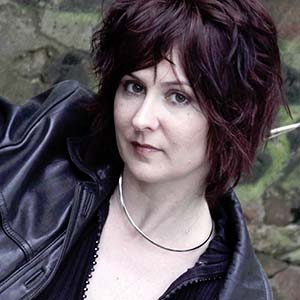 Today I'm hosting Colleen Gleasonfor the YA Scavenger Hunt!
Colleen is a New York Times bestselling author with more than two dozen novels in print, including the international bestselling paranormal romance series The Gardella Vampire Chroniclesabout a female vampire hunter who lives during the time of Jane Austen.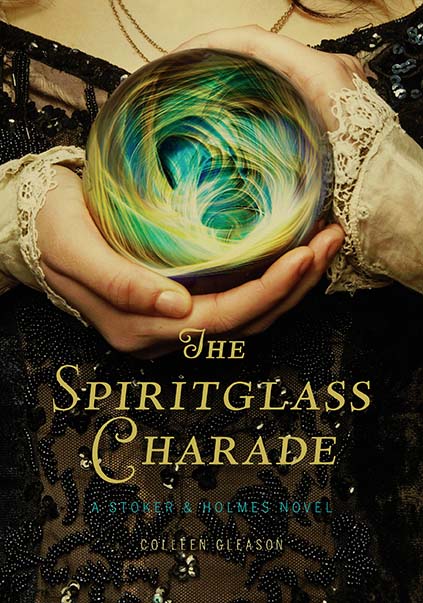 Evaline Stoker and Mina Holmes never meant to get into the family business. But when youre the sister of Bram and the niece of Sherlock, vampire hunting and mystery solving are in your blood.
Find out more by checking out Colleen'sauthor website here, and find more about her book here!
NOW FOR YOUR STOKER AND HOLMES EXCLUSIVE!

Don't forget to enter the contest for a chance to win a ton of signed books by me, Colleen Gleason, and more! To enter, you need to know that my favorite number is 5. Add up all the favorite numbers of the authors on the green team, and you'll have the secret code to enter for the grand prize!
To keep going on your quest for the hunt, you need to check out the next author, Vanessa Barger!
Speak up:
12 comments
| TAGS:
#YASH
,
Colleen Gleason
,
Stoker and Holmes
,
The Spiritglass Charade
,
YA Scavenger Hunt
I've met a lot of people on this publishing road, and Jake Smith is one of the classiest. His novel, Wish, was released in May ofthis year from Tyndale House Publishers, and it tugs just as many heartstrings as you would think from this description: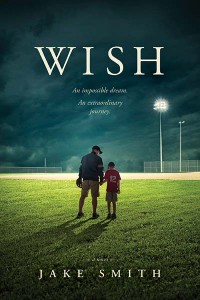 James McConnells one wish is that his nine-year-old son will finally be healthy enough to play a game of catch. Then he and his wife, Emily, receive news theyve dreaded: Aarons cancer has relapsed. As the family steels themselves for a draining treatment regimen in yet another hospital, Aaron receives the gift of a lifetimea personal visit from one of his favorite professional baseball playersand the chance to make a bold request, his wish: to see his dad play in one major leaguegame. A former college standout, James fears he doesnt have the talent it takes, even for one game, and that hell miss what could be Aarons precious last weeks. Yet how can he refuse his dying sons wish? Poignant and triumphant, Wish is the story of a fathers love, a familys perseverance, and the miracles that can happen when you believe in the impossible.
Because I love this book so much, I asked Jake if he'd answer a few questions, and he obliged:
Talk a bit about the genesis of Wish.
The image for Wish a young father, standing alone in the middle of a Major League Baseball field, under the lights, the crowd going crazy, and hes wondering how in the world he got there came out of necessity. Id just tallied my hundred-and-something rejection for a YA science fiction novel I was querying, when I said out loud, All right, I get it Im not supposed to work on this one. So what else should I write about? That image flashed in my head.
At about the same time, we were watching a Detroit Tigers baseball game, and one of our favorite players hit a home run; and as hes rounding the bases, the announcers begin talking about a little boy that player had visited in the hospital earlier in the day. Thats when the idea of this unbelieveable experience this father has, of playing in one MLB game, comes about because of a wish from his ill son.
What kind of research did you do in order to write Wish?
Im a baseball nut to begin with, playing a lot in high school and helping as an assistant coach at my alma mater a handful of years ago. I talked with some former Major Leaguers (including the player who hit that home run I mentioned before), and had another former player and current ESPN baseball analyst, Doug Glanville, review the manuscript. On the medical side, I had several chats with pediatric oncologists, hospital administrators, and families who have fought childhood leukemia with their children, all so very powerful. Tours of a couple of childrens hospitals and the behind the scenes of Comerica Park (home of the Detroit Tigers) and another Minor League Baseball park provided a dose of realism that proved invaluable.
You've been described as a man who writes "fiction with a mission." What does that mean? What is the "mission" for Wish?
Wish is more than just a story. As soon as I thought of the ill child, I thought, Well, if this works, we could use it to do some good. Which is exactly what weve been able to do, donating a large chunk of proceeds to childrens hospitals around Michigan, and inspiring people to join the bone marrow registry at www.BeTheMatch.org. My kids are, thankfully, healthy, so I feel Ive been called to use whatever gifts I might have telling a story to do as much good as possible. Its been one of the most unbelievable experiences of my life to receive letters from readers who tell me that as soon as they finished reading Wish, they signed up on the registry. The only thing that could eclipse that is if someone actually matched a person in need and went on to save their life. Ive been on the registry for nearly 15 years, and Ive never been called to donate; what a wonderful feeling that must be!
Describe your path to publication. What has been your greatest challenge? Greatest triumph?
Wish tallied 55 rejections before finding an agent and to do that, it took a friend-of-a-friend referral to an agent, an agent whose call I screened when he called the house that night! (Its true; I thought he was a telemarketer.) From three years of writing letters and receiving Sorry, not for us letters, to a whirlwind 24 hours, and I had an agent. After two lengthy revisions, it went out to publishers, and we received an offer. It was a little more than three months from signing with my agent to receiving an offer from Tyndale House Publishers.
Greatest challenge: the second revision, in which I had to try to fix my bad writing habit of using too many passive words (in the end, I feel it made me a better writer).
Greatest triumph(s): opening the box of hardcovers and seeing my name, writing donation checks to hospitals, and getting that first letter saying that someone signed up on the bone marrow registry because of Wish.
What are some books that have had an influence on you? or What are some of your favorite books/authors?
I wish I could give you the name of an obscure writer so that people would run to the bookstore to search for it, but in truth, The Hobbit and Lord of the Rings probably had the biggest influence on me for one reason: they sparked my imagination. Ive always felt that imagination is one of the most important thing youngsters especially teenagers can develop, because imagination leads to ambition, which leads to perseverance. Thats why Im so thrilled about the amazing world of Young Adult literature these days so many fabulous stories and storytellers (like you!) for kids to absolutely lose themselves in.
Authors Dan Walsh, Jason F. Wright, and Kevin Milne (all in my genre of inspiring, family- and faith-based fiction; and all gracious enough to provide cover blurbs for Wish) have been great sources of inspiration. And Im a fan of Doug Stanton as well, and his ability to treat a non-fiction event (war stories) with a novel-esque style. The way he applies his research is incredible.
What advice would you give to other writers?
Develop a process for editing. Its tough to like your story during the editing phase, but if you compartmentalize your editing take different aspects of the story in different phases the process can go a little smoother. I do a chapter edit as soon as Im done writing a chapter; then when the manuscript is done, I do a content edit; a mechanical edit (grammar, punctuation, etc.); a bad-writing habit edit (see above); an out loud edit (reading the book out loud, great for identifying run-on sentences, missing or repetitive or improper words, and for dialogue); and then one more story edit.
What ritual/charm/beverage do you require in order to sit down and write?
I have a fountain pen my dad gave me as a college graduation present, saying, From one writer to another. (Hes a well-known outdoor book and magazine author and editor.) I confess that I never really felt like I could call myself a writer until I sold a piece of my fiction. I used that pen to sign the publishing contract for Wish. So I sort of hold that pen and say a prayer for an open mind and a vivid imagination. And I listen to a lot of movie soundtracks.
You are working on a new novel project now. Can you tell us a little about it?
Its another fiction with a mission book, this one revolving around high school basketball, dogs, and the military. Some of my research has been pretty emotional so far. Im only a few chapters into it, and its a bit more difficult to write. With Wish, I didnt have any expectations or timelines; now, I feel all of these things looking over my shoulder!
Thank you, Jake! I loved Wish and look forward to reading your next book!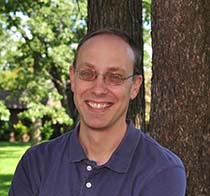 Jake Smith is an author and magazine editor who lives in Traverse City, Michigan, with his wife, Vickie, their three children, and a Labrador retriever. A former assistant high school baseball coach and All-State shortstop, Jake now spends his time on the field helping coach his kids youth baseball teams.Wish is Jakes debut novel, and he hopes it will help support childrens hospitals, patient and family foundations, and participation in the National Marrow Donor Program.
Find Jake on his website, Facebook, Twitter.
Find Wishon Amazon.
Speak up:
comment
| TAGS:
fiction with a mission
,
Jake Smith
,
National Marrow Donor Registry
,
Wish
Ive been tagged by Albert Wendland for the 777 meme!
The rules:
Go to the 7th line of the 7th page of your work in progress.
Post the first full 7 lines.
Then tag 7 friends.
My work in progress is my second title contracted with Simon and Schuster Books For Young Readers. I wasabsent the day tagline-writing genes werehanded out, so thinkgenerous thoughts when you read the below. Here is my stab at a one-sentence summary of the plot:
Six former playmates, now grown apart as seniors in high school, discover that the chest of jewelrythey found and kept secret as children is an infamous collection with a profound purpose, andwearing the jewelry has comeat a price for each of them.
Myfirst complete novel draft came in 50,000 words too large, so Im not sure if there will be six or four main characters in the next draft. Such is the revision process!
Anyway, one of the characters, call him Brett, is struggling with abuse at home. His own Consequences have grown less scary as hes grown larger than his mother, but he watches helplessly as his sweet, six-year-old brother endures some of the same things he once did. Bretts particular upbringing has left him with some confused ideas about the nature of his power with respect to women/girls.
This passage is part of his introduction in chapter one. To all the line-counters out there: yes, I cheated, and this is more than seven. You can stop reading after seven if you like!
Hed never set out to be a bad boy. Somehow it just happened.
He and Julie had fallen behind on the getting drunk part of the night, and Julie was racing to catch back up with the group. Festivities moved on from I Never when Jade and Oscar finally came downstairs and suggested a dice game. Julie swallowed half a can each time it was her turn.
Hey, Brett whispered. He turned his face to her ear so no one but Julie would be able to hear him. Slow down, there, chugger. You okay?
Yeah. She nodded and forced out a grin. It was the Im not alright but Im trying to pretend I am face. He hated that face. It meant she was going to cry later. It meant he was a jerk.
Well, he was, wasnt he? Hed asked her to go down the hall, even though she was the one whod said yes. Hed kissed her first, but shed kissed back. Hed taken the lead from there, and shed followed right back. Theyd both had some beer, but like some girls did when they wanted to fool around, and wanted their forwardness blamed on the alcohol, shed been pretending to be more drunk than she possibly could have been. Hadnt she?
Hadnt she?
(And, yes, Brett's piece from the collection is a ring based off the one you seeabove.)
So there you have it. Next up are seven wonderful writers Ive had the pleasure of working with:
Speak up:
2 comments
| TAGS:
777 meme
,
Albert Wendland
,
Anne Lutz
,
Chandler Baker
,
Cindy L. Rodriguez
,
Jewelry
,
Kim Savage
,
Lee Kelly
,
Sally Bosco
,
Virginia Boecker
,
work in progress
Ive been tagged by my Freshman Fifteens buddy Kim Savage, author of After The Woods, to participate in the #mywritingprocess blog tour. Her writing process can be found here. As a taggee, Im supposed to answer the following four questions, so here goes:
1) What am I working on?
Well, I just finished the first draft of my second YA book in my contract with Simon & Schuster Books For Young Readers. Tentatively titled Jewelry, its the story of six high school seniors living with the (magical, disturbing) consequences of discovering a jewelry chest in a back yard pond when they were ten years old. Now that the manuscript is in my editors hands for a bit, I have to decide what to work on nexta revision of one of my two earlier manuscripts? Something entirely different? (I actually think I know the answer, but for now its a secret!)
2) How does my work differ from others of its genre?
Im not sure it does differ. That implies most other books in the genre are the same. Todays YA field is wide and complex, with room for genre-blending, experimentation, and a wide range of age-appropriateness. There isnt a formula to be different from, except for the requirement that the protagonist be a young adult. Almost anything goes, and thats one of the reasons I like writing YA so much. My two contracted books are a genre mix of contemporary, fantasy, and romance, and both contain a mysterious element. I also like to believe my stories have a takeaway that makes a reader think even after theyve finished the book, though I certainly am not the first YA author to hope this.
3) Why do I write what I do?
I bet theres a whole psychoanalysis of me that can be done to answer this question. The short answer, though, is that I write what I feel like writing. I chose to be a high school teacher for fourteen years, and now I write for that audience, so I guess I find something fascinating about that time of life. I also love science fiction and fantasy because I feel those genres have the potential to test characters in unusual and meaningful ways.
4) How does my individual writing process work?
Generally something like this: I develop a concept and some characters, like a boy who can create worlds or a group of kids who find a jewelry chest. Then I brainstorm a bit about what could happen in the story and what the ending might be. Then I write. One chapter at a time I let the story unfold for myself, occasionally pausing to think about where Im headed. Its like reading any other book, wondering whats going to happen next. I often have no idea until I write the words. Both of my contracted books ended in a far different place from where I thought they might go, and that process of finding my way through a plot is most of the pleasure of writing for me. Of course, the downside is I find myself having to revise my beginnings quite a bit to match my endings!
Next up: Two writers who have been an integral part of my journey to become a professional writer. Rhonda Mason's writing spans the gamut of speculative fiction, from space opera to epic fantasy to urban paranormal and back again. Her space opera trilogy, Empress Game, launches from Titan Books July 2015. Writer/Producer Diana Dru Botsford's work runs the gamut from novels to the screen including several Stargate SG-1 novels, the Star Trek TNG episode, "Rascal's" and the award-winning science fiction webseries "Epilogue." She most recently contributed to the up-and-coming Stargate short story anthology, "Far Horizons," due from Fandemonium this fall.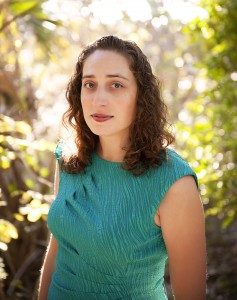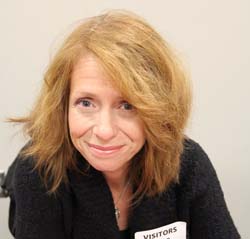 Speak up:
1 comment
| TAGS:
critique partners
,
Diana Dru Botsford
,
Kim Savage
,
Rhonda Mason
,
writing process
,
YA
Ive kept my distance from this blog for a few months because most of whats been on my mind is more personal than professional in nature.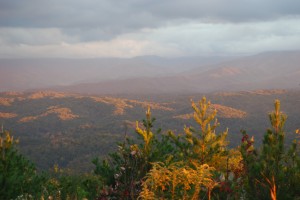 On a happy note, Ive done a lot of traveling with my family. We visited the Blue Ridge Mountains (from Asheville, NC) and Great Smoky Mountains National Park (from Sevierville, TN). We also spent the end of 2013/beginning of 2014 out West (Scottsdale, AZ, Las Vegas, NV, and Grand Canyon National Park). I attended YALLFest (Charleston, SC) and the NCTE ALAN workshop (Boston, MA).
Ive also said goodbye to some dear family membersmy grandmother, my cousin, and my aunt. I dont want them to be gone. I miss them so very much.
And, of course, since I live in the Boston area, Ive spent a considerable amount of time dealing with snow!
As for progress on my book in the publishing world, I completed two revisions with notes from my editor and a third revision with notes from my copy editor. I understand there will be one final edit to come. In A World Just Right is still scheduled for release in the spring of 2015. Between now and then galleys will be printed for the purpose of getting reviews ahead of the release. Soon I should have cover art. Mostly, all is progressing at the slow but steady pace that it should be. It takes a long time to prepare a book for release.
Ive been hard at work researching my next book, tentatively titled Jewelry. Im a bit behind where I wanted to be at this point, largely because of the travel and the mourning, but Ill catch up. I always do.
I conclude with some pictures from the last few months.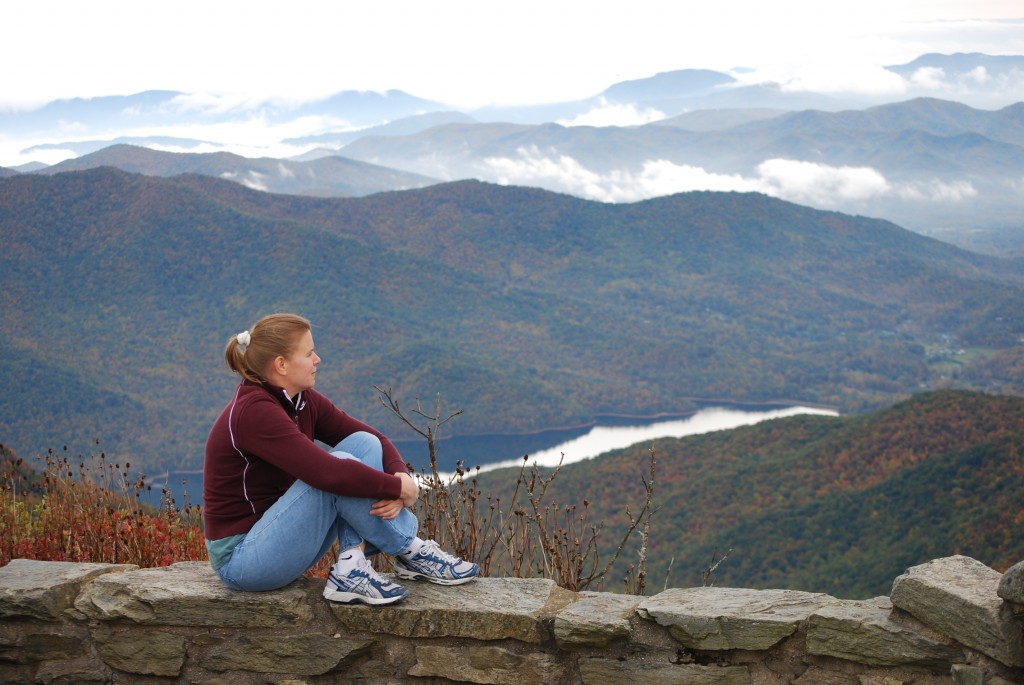 View of the Blue Ridge Mountains.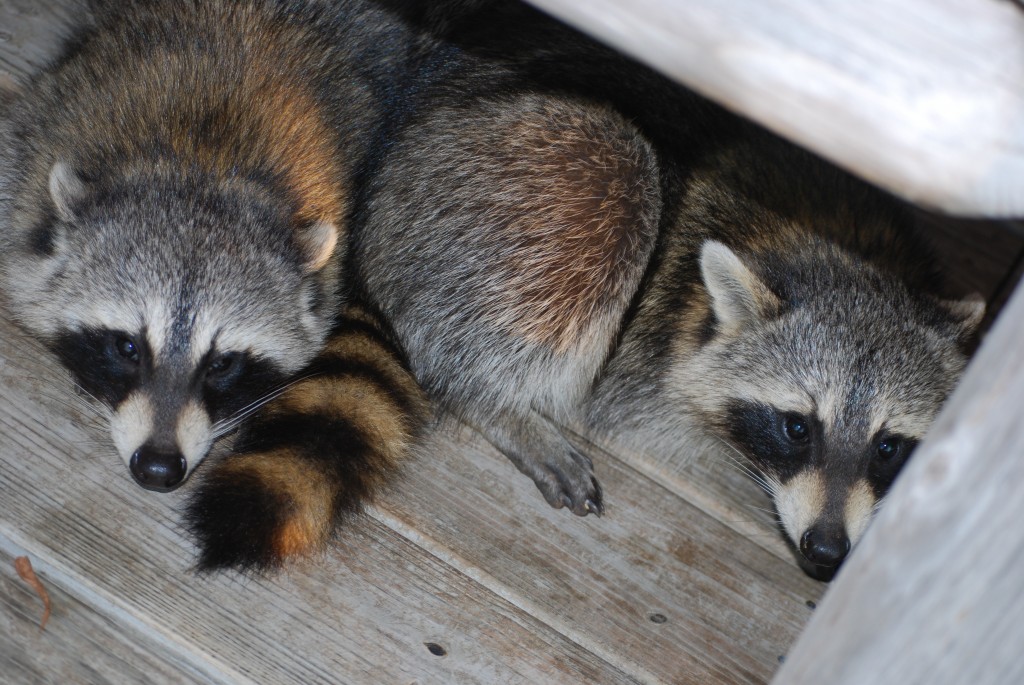 Visitors at our cabin in Sevierville.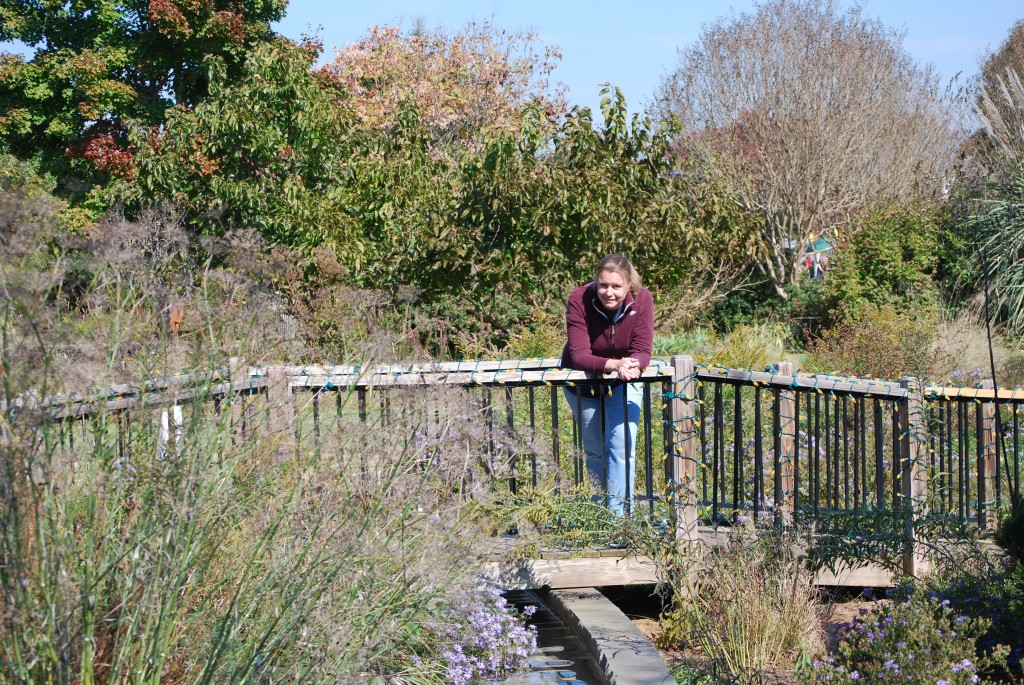 At Daniel Stowe Botanical Garden outside Charlotte, NC.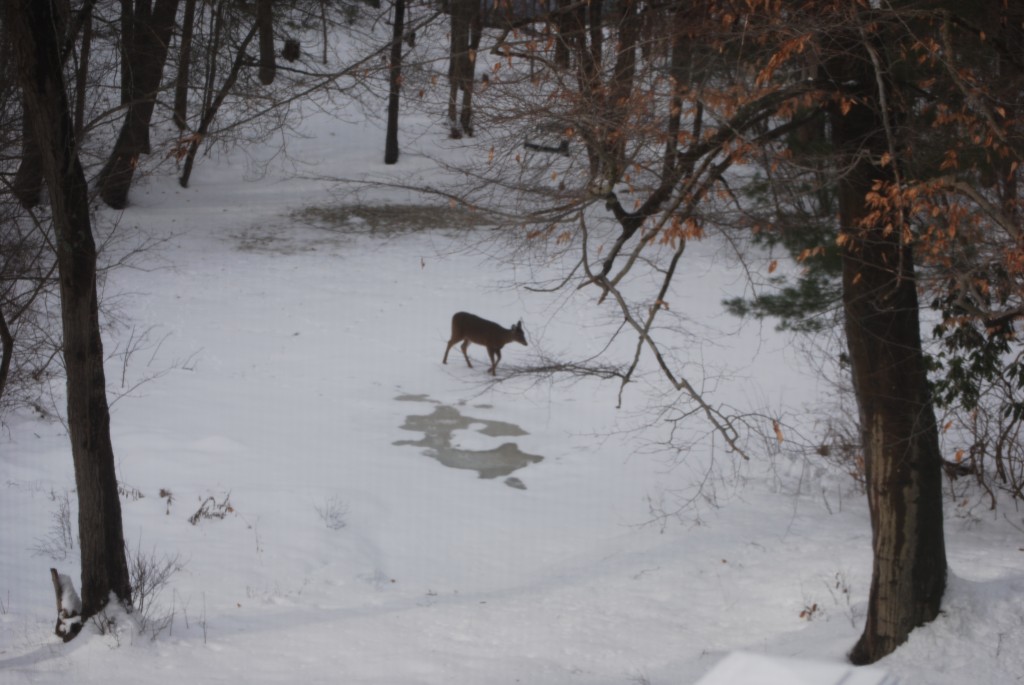 Deer on the pond in my back yard.
Speak up:
2 comments
| TAGS:
editing
,
travel
,
where I'm at