chart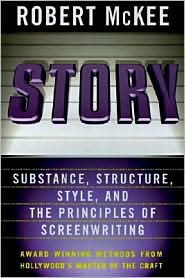 One of the most importantscratch thatTHE most important book I've read about writing is Robert McKee's Story.
McKee's book is based on his famous seminars he delivers world-wide and is actually for screenwriters, but his advice is completely relevant for novel writers. On his website, he says his alumni have won 35 Academy Awards (160+ Nominations) and 164 Emmy Awards (500+ Nominations). The dust jacket of my hardcover copy says works written, directed, or produced by his alumni include Batman Forever, Beauty and the Beast, E.R., Forrest Gump, Friends, Law & Order, Saving Private Ryan, Seinfeld, Sesame Street, Toy Story, and the X-Files, and my copy is something like eight years old.
Two important concepts I took from the book are the "gap" and "two goods/two bads." Essentially, the "gap" opens up when a character takes action they expect to yield a certain result, but the reality turns out differently. Two goods/two bads refers to character choices, which are only meaningful if the choice is between two equally strong goods or two equally strong bads. To really understand these concepts, read the explanations and examples in McKee's book.
Reading Story led to my creation of a "gap chart" for my first manuscript (science fiction set on a faraway planet). My main character, Aiden Carter, is an ambitious eighteen-year-old on the fast track to the equivalent of the presidency. His skeleton in the closet is his mother, who frequently breaks the law against charity. Here is the very top of the chart:
Plot advances
What Aiden expects
What happens instead
Possible choices/ consequences
Decision/new direction
What is risked
Aiden Carter cheats in a track meet, next morning called to "principal's" office.
Fears either a punishment for cheating or questions about his collapse on the track.
Questioned by the military government about his mother, Hannah Carter.INCITING INCIDENT
TWO GOODSTell truth-avoid getting in trouble.

Lie-protect mother from prosecution.

Lies.
University honor status.
Aiden walks home.PROGRESSIVE COMPLICATIONS BEGIN
Hannah Carter is safe. (because his lies will protect her)
Hannah Carter is arrested anyway.
TWO GOODSDon't testify-possibly prevent her conviction.

Testify-save his own career.

Testifies.
Hannah Carter's life.
This chart goes on for twelve more rows with Aiden taking actions and having his world react unexpectedly, which then causes him to take more actions where more and more is risked. It is that far-right column that gives the story it's drama. My "What is risked" column progresses from "university honor status," through things like "his identity," "his secret power," "his life," "the entire planet." As you go further down my risk column the stakes for Aiden get higher and higher until the largest possible thing is at stake.
I made this gap chart after I had written the manuscript. It helped me see my story in a way that was much more useful than a mere outline of the plot. It's one of the most important writing exercises I've ever done.
For me it had to be part of the rewrite, but a different writer might benefit from doing this exercise at the outset. Some entry soon I'll write a few words on the plotting vs. pantsing question.
Speak up:
15 comments
| TAGS:
chart
,
gap chart
,
inspiration
,
Prosorinos
,
Robert McKee
,
Story